Boston Vs. NYC, 20 Months Later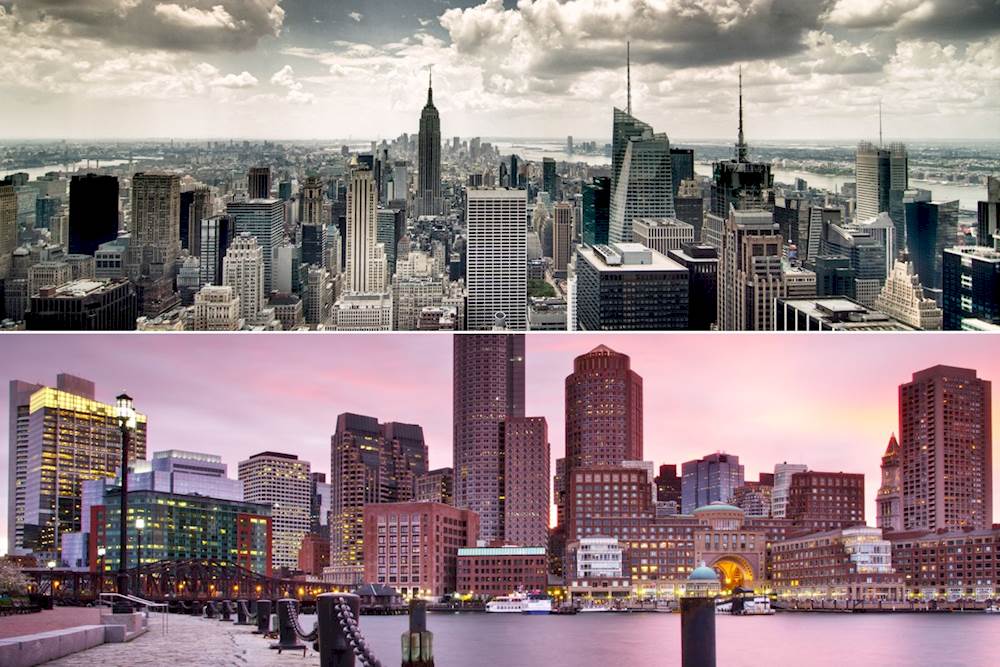 This was originally posted on BostInno.
Ages ago, on Oct. 2, 2014, Dan Primack published Are we done yet with New York tech hype? The previous year, Matthew Flamm had hypothesized that NYC's rise in tech has come almost exclusively at the cost of Boston, leading to a Boston "Lost Decade."
As a followup to my Boston Tech Reawakening post, I wanted to do a quick update to see how Boston is actually doing compared to our rival down the coast, especially given the ridiculous amount of money flowing into NYC tech in the last few years.
First, a recap.
Primack in 2014
I love Primack's writing. He starts by throwing rocks. So Boston.
New York City should stop hoping to become the next Silicon Valley. At least until it becomes the next Boston or Seattle….the reality is that the Big Apple has been more talk than show for quite some time now, with just a single venture-backed startup that has been sold or gone public at a valuation in excess of $1 billion.
Burn! (The $1B company was Tumblr…nice acquisition Yahoo…)
And then:
But paper valuations are not etched in stone. Just ask Foursquare, Fab and Gilt Groupe.
BUUUURN! (Those were all NYC burnouts…)
Recent Boston Performance Compared to New York
There are a couple ways to think about comparing to NY since then: past performance and trajectory.
Since Tumblr, NY has been picking up steam. Fotolia sold to Adobe for $800M, MakerBot to Stratasys for $500M (Boston's GrabCAD also went to Stratasys for $100M), and a handful of other, smaller 9-figure deals. Indeed, NY has the 2nd largest number of acquisitions by a very large margin.
However, in past performance since 2000, Boston just crushes NY. NY has a couple decent sized tech companies (the old school CA Technologies $12.9B, Take-Two Interactive $3B, Etsy ~$1B, Kickstarter < $1B, OnDeck ~$500M, etc.), but their first $1B acquisition ever was in 2013: Tumblr.
But NY still doesn't have anything like the list of Boston successes I listed previously. And many of their most visible tech companies - Etsy, Kickstarter, Gilt Groupe, MakerBot, etc. - have struggled to live up to their potential and hype. In effect, NY has all kinds of potential but hasn't yet hit the big time.
Note: I'm not including WeWork here, by far the largest NY startup by valuation, for the simple reason that it's not a tech company. I similarly didn't include any of the big Boston VC-backed life science wins in the list above, even ones like Vertex, $20B, whose competitive advantage is in software!
Even so, NY's growth is impressive, and the recent M&A activity acceleration reflects the number and size of deals there in the last few years.
In terms of growth rates, from 2010 – 2013 annual VC funding has grown 40% in SoCal versus 33% in Silicon Valley, and 27% in Massachusetts. New York has grown the fastest at 73%. (source)
In recent quarters it's been going back and forth with Boston on which city is putting more $ to work, though NY has pretty consistently had the edge: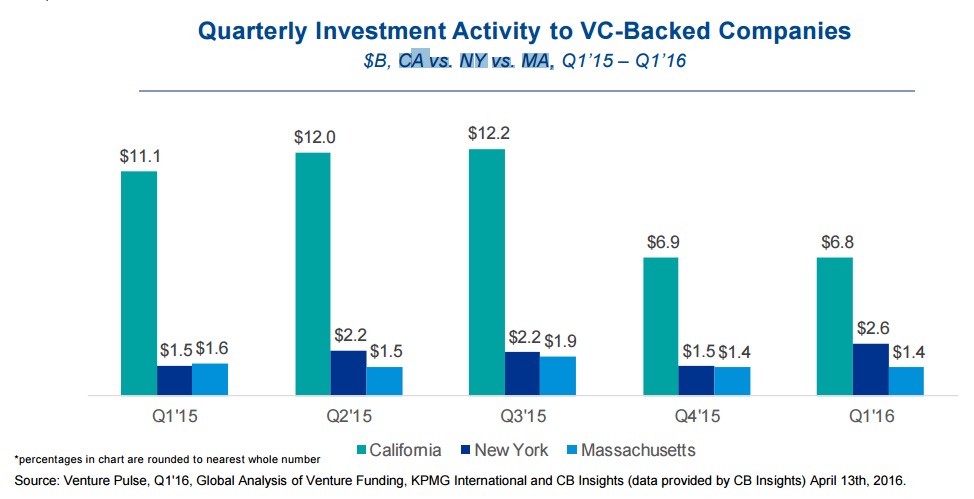 But New York is above Massachusetts consistently in number of transactions: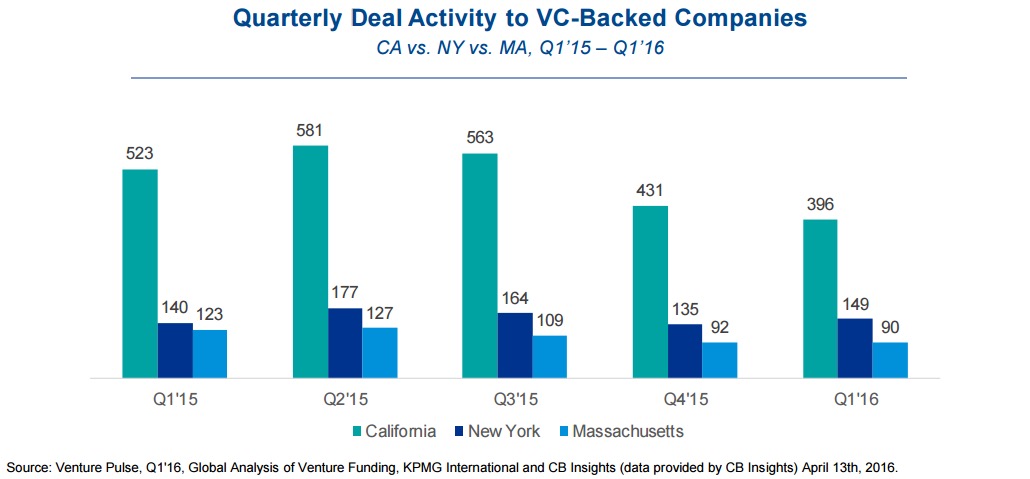 Time will tell the result. NY doesn't yet have any anchors of its own, but by sheer volume of transactions and dollars the next decade will be interesting to watch, especially in sectors like fintech and fashion, where NY has natural competitive advantages over anywhere else.
Given our stronger foundation and longer track record, Boston should be able to remain competitive with and even beat out NY long term. At the very least, their growth is not (yet) indicative of NY's rise over Boston as the new tech king on the East Coast as many such as Flamm would have you believe.
Most of the above NY numbers are still promises (lots of funding, high valuations), not exits (real money). [BUUUUUUUURN!!!!]
Onward
It's harder than people think to build a tech hub where you have a combination of experience, money, young talent and supportive institutions. I suspect it's a many-year process. The Silicon Valley, Seattle, and Boston have been at this a long time. There are 60-year-olds in Boston who founded great companies, as there are in the Valley and Seattle. The other big cities - NYC, Chicago, Atlanta, Austin, etc. - will take a long time to notch their wins, create their mentors, grow their ecosystems and deliver consistent results. I believe it's inevitable, and better for us all when it happens, but they're not there yet.
Author's note/confession: NY is a favorite city of mine, I like it far more than SF, and am generally an East Coast kind of guy. It just grinds my gears when they get crowned the Silicon Valley of the East JUST BECAUSE THEY'RE NY rather than because they actually deserve it. The day they earn that title, cool. Until then: get off my lawn.